I had the most wonderful treat this week - world-class theatre in my own suburb!
I have lost count of the shows and concerts I haven't seen over the years, due to there never being the money for such luxuries when we were raising children and, in more recent years, the tyranny of tiredness that comes from travelling home after a night in the city an hour's drive away. So when this opportunity appeared locally, I snapped it up.
As a fan of Charles Dickens and in the midst of a personal challenge to get through as many of his books as I can in this, his 200th anniversary year, the appeal of a performance by one of Britain's premier actresses bringing to life the female characters from many of his stories is obvious!
Miriam Margoyles has that rare ability to transform herself, without props or costume, into the persona of another. It is almost startling when she "returns" to her true self, so convincing is the transformation.
This tiny women (she must be a good head shorter than I, and I am only 5' 4"!), whom I have loved in both Blackadder and Harry Potter, has recently appeared in the wonderful ABC series featuring Kerry Greenwood's Phryne Fisher and I must admit being hesitant about her character, who does not appear in the books. But she is so wonderful, I think Kerry should add her!
This was not a show idealising Charles Dickens, indeed he lessened a little in my eyes as a man, given some of the background Miriam shares about his treatment of his poor wife. But he was a man of his times and perhaps he knew no better.
I purchased a copy of the book featuring the script and excepts from Dicken's works, as featured in the performance and the seller mentioned Miriam would be signing after the show. So rather than linger, I left the theatre quick smart and found myself second in the queue. Within moments, a voice said "here she is now!" and the diminutive Miriam appeared in the crowd, to their startled delight! She sat herself at the table and then - amazingly - her voice bellowed across the foyer (and possibly the suburb!) "COME AND BUY MY BOOK!". The place filled with laughter and as the first person moved away with his signed book, I stooped down to look her in the eye and tell her how much I enjoyed the show. She smiled as she continued signing but her face crinkled with joy when I said "and I LOVED you in Phryne Fisher!" She looked at me and said "Isn't it WONDERFUL!" and I agreed it is and she said she hopes they make more. It was so lovely to have that moment and I drifted happily to the lift with my signed book in hand.
I then drove home to the ongoing soundtrack of A Tale of Two Cities!
If you can see the
show
, do go. But if you can't, treat yourself to the
book
.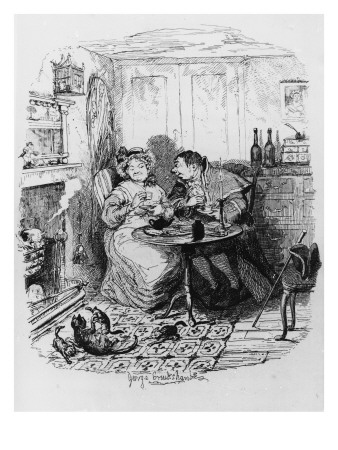 A proposal is at hand
My favourite scene must be that from Oliver Twist, where The Beedle, Mr Bumble, is courting Mrs Corney. Miriam portrays both characters and had the theatre in hysterics with the faces she pulled. But the tragic miss Flight, from Bleak House, stole the end of the show, tallying the names of the birds she kept until she received a judgment in Chancery.